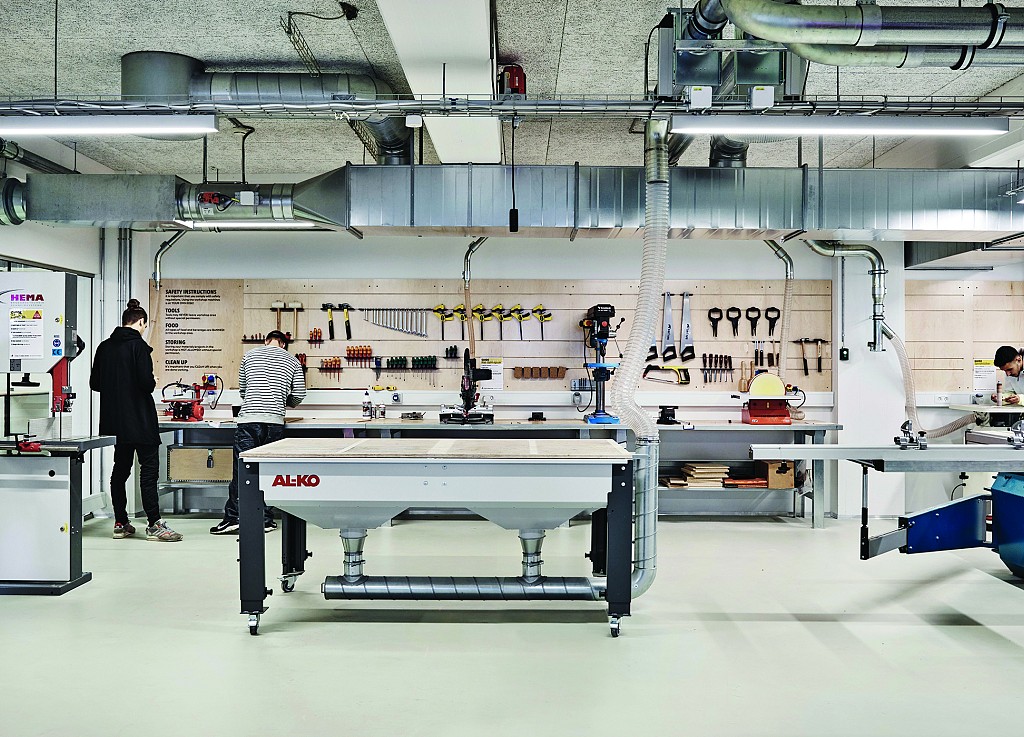 DTU Skylab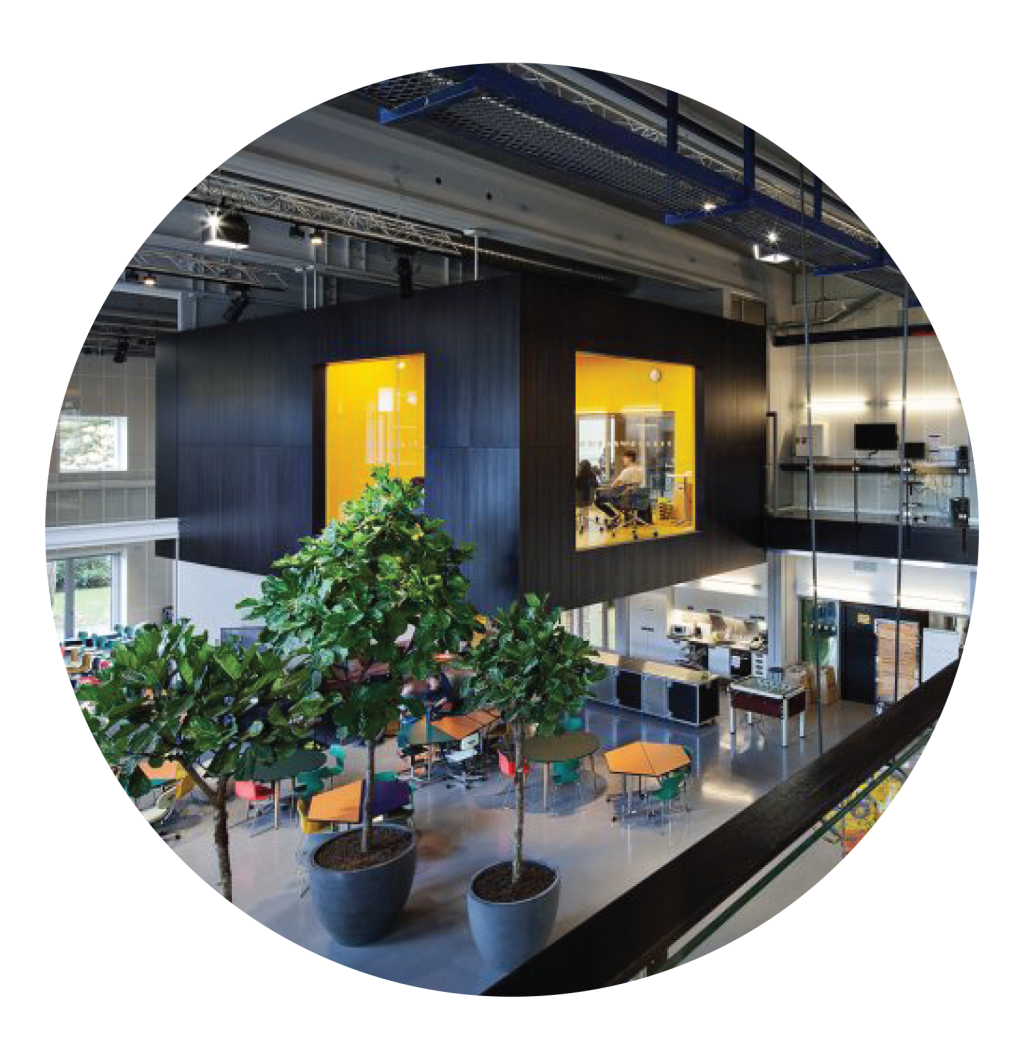 About
Skylab is one huge castle for innovation and co-creation. Their prototyping workshops cover everything from wood workshop, laboratory, electronics and rapid prototyping studio as well as a pretotyping area. The equipment varies from 3D printers, Arduino kits, plasma and laser cutters, CNC machines all the way to a robot arm and much more.
In the workshops, Skylab's staff are ready to help you build prototypes and they will assist you in operating the equipment.
The large open work area can be used for exhibitions, events and study. Just pick a seat and turn on your computer. Go to the social lounge area for a break, where you can test your X-box gaming skills or just relax with a cup of coffee.
You also have access to group- and meeting rooms where you can have great brainstorm sessions writing on the walls or roll down the curtains for exam sessions. For smaller courses or workshops our 60 m2 beautiful, free-flowing Skybox can fit up to 30 people.
Facilities
Metal workshop

Wood workshop

Welding workshop
Rapid prototyping

Electronic workshop

Wet Lab

Design lab
​
​The coming Foodlab

Lounge and open work area

Auditorium

Project rooms

Meeting rooms
Contact
The workshops are open as follows:
Monday: 8.00-15.15
Tuesday: 8.00-15.15
Wednesday: 8.00-16.45
Thursday:8.00-15.15
Friday: 8.00-15.15
KEA Startup Hub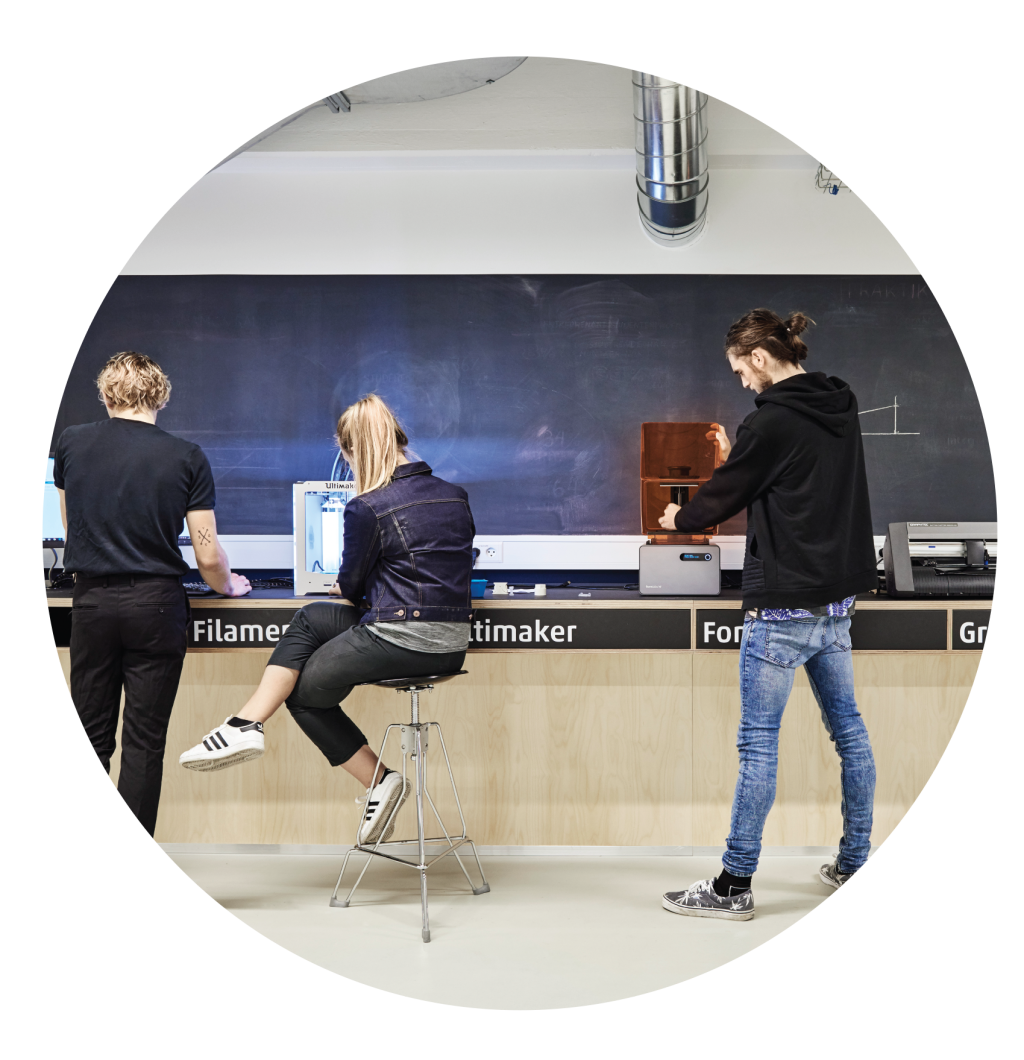 About
The objective of KEA - Copenhagen School of Design and Technology - is to develop and offer business-oriented higher education that combines theory with practice. Or as KEA's slogan says: knowledge alone is not enough - you need skills. In line with this practical focus KEA has a number of labs that hold 3D printers, laser cutters, robots, VR equipment, and much more for you to develop your skills.
Contact
KEA's labs and workspaces are placed around at KEA's different departments. To find each facility's address and opening hours, follow the links above.
For further information about KEA's facilities see here:
VentureLab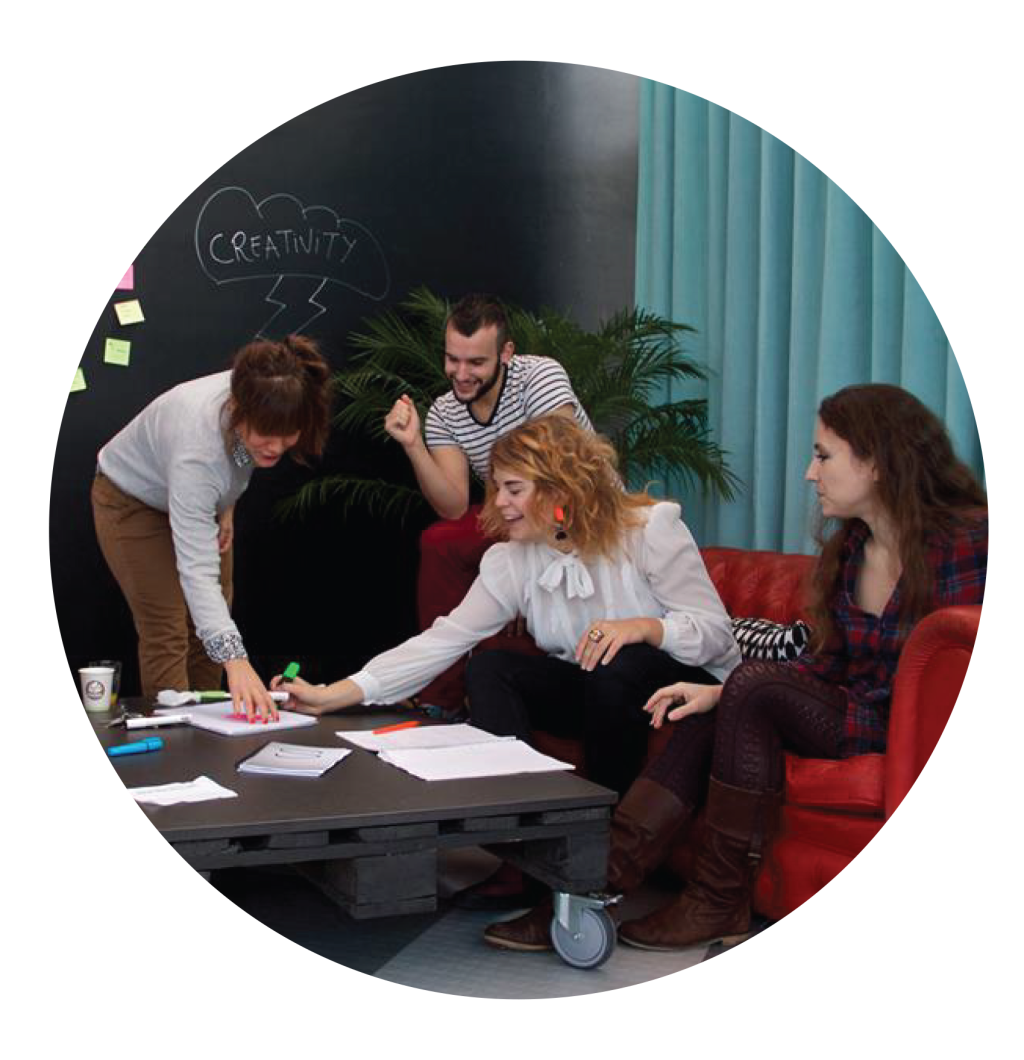 About
VentureLab is Lund University's collaborative space designed to stimulate 
entrepreneurship and to support students and graduates who want to start their own businesses.
​Since its inception in 2001 VentureLab has expanded and been embraced by LU Innovation, the university´s link between academia and business. With headquarters at the Innovation hub Ideon Agora, in Lund, VentureLab meet more than 5000 students each year on our inspirational activities, receive more than 200 student ideas through idea & business meetings and provide a "home" for 40 to 50 companies each year in our incubator.
Facilities
3D Printing Laboratory
​
Workshops
​
Incubator with 25 workspaces
Meeting rooms
Business advice
Contact
VentureLab labs and workspaces are placed around at Lund University different departments.
To find each facility's address and opening hours, follow the links above.
For further information about VentureLab facilities see here 
https://www.venturelab.lu.se/
CPHBusiness - Inkubatoren

About
INKUBATOREN at Cphbusiness is living and breathing the motto: 'Grow your own business while studying'.
We support our student startups in hitting reality as fast as possible: Real prototyping – real customers – real money.
This reality focus makes the work and the knowledge sharing between the startups in inkubatoren very intense and profound. There's a lot at stake. It's a community of give and take. Results are hard work and high growth rates.
To us, entrepreneurship is the mindset, more than the initial idea. We spot and nuture entrepreneurial talents with a focus on three strengths: Creative, innovative and entrepreneurial.
If you are serious about your entrepreneurial journey, as a student of a NEH member institution, you are welcome to join our community network
Facilities
30 incubator work spaces at 2 locations
3D printer
Poster printer
Full recording studio
VR facilities
Business advice
Advisory board
Contact
Inkubatoren at Cphbusiness is located at two addresses:
Inkubatoren Lyngby,
Nørgaardsvej 30,
2800 Kgs. Lyngby​
Inkubatoren Søerne,
Nansensgade 19,
1366 København K
For further information about Inkubatoren facilities see here
Ignite is Nordic Entrepreneurship Hub's startup programme for students who want to develop their idea into a business, train their entrepreneurial mindset and become part of a strong community of startups.
As part of Ignite you will get access to free startup coaching and all the know-how, resources and workshops imaginable. All you have to do is commit to working seriously with your idea and be open to question your assumptions.
Through eight workshops you will meet and interact with the other participating startups and dive into core topics – each workshop creates input for one slide in your pitch deck or a tool from the toolbox.
The Ignite programme is offered at KEA - Copenhagen School of Design & Technology, Skylab @DTU - Technical University of Denmark and VentureLab @ LU - Lund University.
Ignite starts in the beginning of each semester and runs over an approximately 3-month period as an extra curricular programme.
Upon completion of the course you will receive a diploma for future references.